I recently completed some forecasting and goal setting for my business. As I went through this process, I pulled from several resources that inspire and motivate me, a favorite of which is Simon Sinek's "Start With WHY." He expresses his message through what he calls The Golden Circle: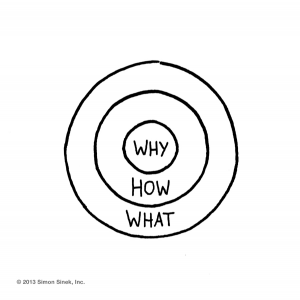 His premise is that you must begin with your WHY, and from there figure out your HOW and WHAT. When Sinek studied successful leaders, he found a common denominator – they inspire through a clearly and passionately articulated WHY. They hold their WHY front and center – like a North Star – to guide their WHAT and HOW. Everything emerges from the core WHY, or belief. HOWs are the actions they take to realize that belief. And WHATs are the results of those actions.
I've known about Sinek's philosophy for a while, but I find even greater meaning in it now – not only for my own personal and business reflection, but also for my clients.
According to this line of thought, most every person and organization knows WHAT they do. That's usually pretty clear. Some know HOW they do it. But very few know WHY they do WHAT they do. Or at least they don't stop to think about it or articulate it frequently and consistently.
By WHY, Sinek doesn't mean 'to earn revenue,' but rather, he's referring to your purpose, your cause, your belief. Sinek asks, "WHAT makes you get out of bed in the morning? WHY do you care? And WHY should others care?" Think of it as communicating from the inside out.
Think for a moment – We busily go about our day-to-day. We take on roles, assignments, projects, and business…and before long we've amassed this huge volume of 'stuff' without pausing to think about WHY we're doing it. Even if we know our WHY, we can fail to consciously use it as our lens or filter for making decisions.
As I went through my own reflection, I see room for getting clearer with my own "WHY" and doing a better job of sharing my story.
A theme for me over my life is that I'm a self-starter and risk taker. I grew up in an entrepreneurial family with my parents owning two businesses. My siblings and I were involved in those businesses where there was no task too great or small; we all pitched in to get it done. And if we didn't know how to do it, we figured it out. Failures were acknowledged as just one step closer to succeeding.
When I finished college, my first jobs were new positions where I was responsible for creating the role. Later on, I set my vision and sites for what I wanted and set out to achieve it, including starting my own business. Through it all, I didn't have all the information, the guidelines were ambiguous, and I needed to perform and produce results fast. I quite like this messiness – stepping into the unknown, bringing order to chaos, and charting a course where there isn't one.
This pattern and energy shapes my WHY – To help people know WHAT they want, find their courage, step forward, and take risks. This is the path to which my life and my work is devoted.
Sinek offers, "People don't buy WHAT you do. They buy WHY you do it. People don't buy WHAT you sell. They buy WHAT you believe. And people follow you not because they have to, not because they are paid to, but because they want to."
This concept comes alive every day in business:
Strategy Development: For an organization to develop its goals, strategies, and tactics, it must first be crystal clear on its WHY, often presented most succinct in a well-crafted vision and mission. As Sinek offers, "It's not just WHAT or HOW you do things that matters; what matters more is that your WHAT and HOW is consistent with your WHY." With a WHY clearly stated in an organization, anyone within the organization can make a decision as clearly and as accurately as the top leader.
Sustainability Planning:  The products and services offered by many organizations are broad and complex. It's important to critically and regularly examine these lines of business and ask, "WHY do we do this," looking at both mission impact and financial return to gauge long-term sustainability. Yet, we can get so caught up in the day-to-day, that our WHAT mutates into a complex web without a clear connection to vision and mission, and with limited (or lost) return on investment.
Succession Planning and Leadership Transitions: Sinek concludes that top executives are successful in great part because they inspire and embody what they believe. When the person who personifies the WHY departs without clearly articulating WHY the company was founded in the first place, they leave no clear cause for their successor to lead. "Successful succession is more than selecting someone with an appropriate skill set – it's about finding someone who is in lockstep with the original cause around which the business was founded. Great 2nd and 3rd CEOs don't take the helm to implement their own vision of the future; they pick up the original banner and lead the company into the next generation."
I encourage you to get to your WHY. It yields greater confidence than 'I think it's right.' It's more scalable than 'I feel it's right.' When you know your WHY, the highest level of assurance you can offer is, 'I know it's right.'
_______
Sinek, S. (2009). Start with why: how great leaders inspire everyone to take action. New York: Penguin Group.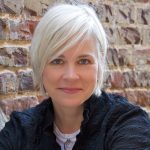 About Jeanie Duncan: Jeanie is President of Raven Consulting Group, a business she founded that focuses on organizational change and leadership development in the nonprofit sector. She is a senior consultant for Raffa, a national firm working with nonprofit clients to lead efforts in sustainability and succession planning, executive transition and search. Additionally, Jeanie serves as adjunct faculty for the Center for Creative Leadership, a top-ranked, global provider of executive leadership education.