I'm struggling with my ability to focus today. As in – 'there are so many priorities, and they all seem like they're #1.' Ever experience this challenge?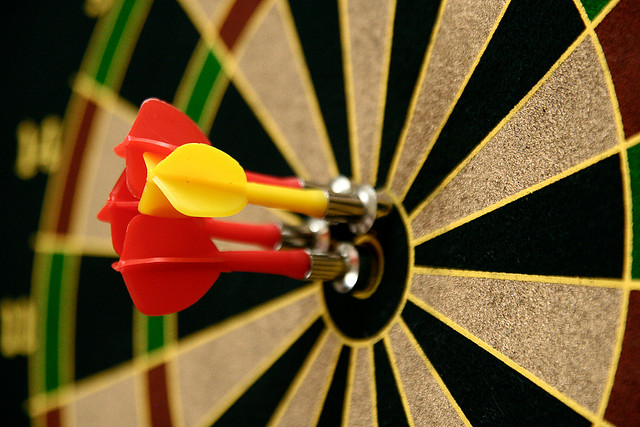 When I find myself in this place, the best thing I can do is sort the priorities. If they're all #1, I find a way to divide them 1A, 1B, 1C. Even when I think they're the same level of priority and urgency, this helps me differentiate to some degree. This way, I take the 20-headed beast down to 5 heads, focusing now on the top 5 things I must accomplish – in an hour, a day, or a week. Yes, the other 15 things are important too, but they'll have to take 2nd place for now. Because if there are 20 priorities at once, I know what will happen – I become paralyzed and do nothing, or I fall into a spin and do a little bit with all the items and  get little accomplished. In the most busy and pressing times, I do this exercise each day or even twice a day.
This place of 'everything is a priority' leads us into the trap of pressing harder, faster, and with greater intensity to try and accomplish everything or achieve a particular unrealistic goal or deadline.
I somehow trick myself into thinking that working harder and doing more is what's needed to get the job done. Intellectually, I can rationalize the truth in this. But, at a deeper level, I realize that intense effort and pace often depletes my energy, can adversely impact my output, and removes the joy from my work.
To help combat this tendency, I have adopted some practices I find beneficial and that have helped me most:
Spend the first hour of the day setting priorities and getting organized. It's easy to launch into the day reacting to the urgent – the rain of emails, interruptions from co-workers, and the barrage of phone calls – rather than advancing the important. I like to get an early start to the day and establish priorities. I begin with the question: "What are the three most important things I need to accomplish today to advance my key goals?" Everything else is a "nice to have." These three daily priorities all roll up to support my weekly, monthly, and quarterly goals.
Focus on the important tasks first. Once I frame my day in the first hour, I immediately set out to accomplish the top three priorities before distractions have a chance to pull me away. If I can't take care of them all, I'll make an appointment on my calendar to return to it later in the day.
Single-Task. When I'm doing too much, I'm constantly switching from one task to another, experiencing multiple interruptions and distractions. Despite our culture's demand to multi-task, resist the temptation, clear away distractions, and give attention to the single matter that is most important.
Eliminate non-essential commitments. Examine your day or week and ask yourself: "What can I eliminate or delegate? Is that task, meeting, or luncheon something that I absolutely must do? How does it advance my strategic goals?" I try and say no to any request that distracts me from focusing on what's most important. I think of it as focusing on my highest and best use.
Step away and take a break. We all have those occasions when work calls for added effort. But more often than not, simply stepping away and taking a break – like going for a run or having lunch in a park – can infuse new energy, bring fresh perspective and new ideas, and actually enhance productivity.
Ask key questions. Another tactic I find helpful is pausing to ask a few critical questions to help me determine priorities or my approach as I begin a particular project or task. It's an important skill for anyone focused on improving performance, and it can help filter through all the distractions and get to the one thing that will deliver the result. For example:
How important is this?
What do I want?
Why?
How will I know when I achieve it?
What can I do to achieve that outcome?
What can I learn from others who have gone before me?
What do I bring from prior experiences that can help inform my present situation?
Challenge yourself this week to do less, focus on what's most important and will deliver the greatest impact, and discover deeper meaning and success in your work. Notice what happens!
"Don't mistake activity with achievement." ~ John Wooden 
Jeanie is President of Raven Consulting Group, a business she founded that focuses on organizational change and leadership development in the nonprofit sector. She is a senior consultant for Raffa PC (formerly TransitionGuides), a national firm working with nonprofit clients to lead efforts in sustainability and succession planning, executive transition and search. Additionally, Jeanie serves as adjunct faculty for the Center for Creative Leadership, a top-ranked, global provider of executive leadership education.
photo credit: modenadude via photopin cc