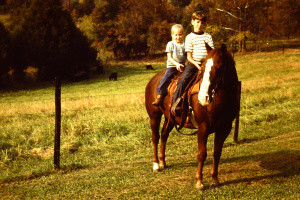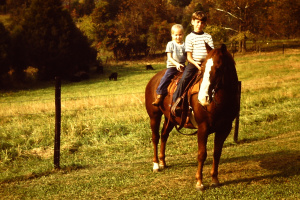 Growing up on a farm, my big brother, Lee, and I filled our days playing with cows and horses, riding our dirt bike, fishing tadpoles out of the creek, and making forts from hay bales that filled our big red barn…the structures soon to became territory for our slingshot battle. The fact that neither of us is blind today truly is a miracle.
As thrilling as all these activities were, they paled in comparison to the work we did in the treetops. If we were to account for our total childhood handy work, we'd have a considerable tree house village! We could make an entire lumber pile and 500 nails disappear in a day or two. In the summers, we practically lived in our rickety tree dwellings, carving our names in the thick branches and telling stories, all with our Daisy BB guns never far from our sides.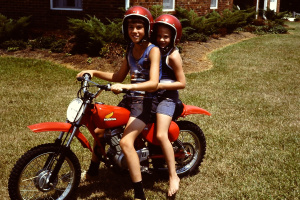 When I think about what matters most to me today – things like nature, adventure, creativity, and freedom – it takes me back to my childhood and how much those experiences have shaped who I've become. I'm thankful for parents who gave us this beautiful space and so much freedom to explore and play. When I consider all the risky things we did, it gives me proof that kids are surrounded by a pack of angels! I mean, in this photo, we're about to jump a stack of concrete cinder blocks with a ramp built of plywood and 2X4s and I'm riding that dirt bike in shorts and am barefoot!
I feel these values alive in me today – mostly in my spirit and essence in how I show up in life and work, and in the particulars of my behaviors and decisions. For example, even though I live in the city now, I'm never too far from the woods, a stream, or a trail. My windows are open to feel the breeze and hear all the sounds of nature. Although my "farm" animals now are Hendrix and Fred, my Labrador and Beagle, I love a horseback ride whenever I get the chance. And three years ago, I bought a Triumph motorcycle. I love my riding and camping adventures. It's through these experiences that I'm most fulfilled.
How have your roots shaped who you are today?
---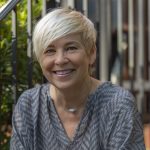 Hi, I'm Jeanie Duncan. I work with individuals and organizations as a transformation partner to help  them unlock their Truth, discover authentic value, and create meaningful impact in the world. I believe when we are truly aligned with our purpose, we can live and perform at our highest potential. With over 25 years of experience as an executive, CEO, consultant, and coach, I offer strategic, knowledgeable, and experienced guidance for those who are ready to take the courageous leap toward true transformation.