"Embracing the suck" is part of the path to mastering anything new says social scientist, Brene Brown.
These days, my "new" is learning to write the stories of the amazing, courageous women I've interviewed for my book…I'm learning to be a storyteller, essentially. And it's hard!
It's hard because
I feel responsible for someone's story. I want to write it in such a way that I honor and convey the core essence of their narrative. I want my reader to really see the women and their experience.
I'm so accustomed to business writing, which is all about keeping the message short, direct, and to the point. Storytelling requires me to develop a style of expounding, elaborating, and being more colorful and emotive in my writing.
I'm working to find the balance of staying focused and on point, yet sharing enough that my reader is drawn in, as if riding a wave beside my "character," following the rise and fall of the story's build, the peak, and the close.
The work is stretching and challenging me in new ways. The difficulty persists, but so do I. I show up even when I don't feel creative. I make myself write – "just get words on the paper," I tell myself, "and the flow will come." I feel myself growing, not only in my ability to write the stories, but also in how I tell stories to others. I'm learning about the art and delivery.
This path, and sometimes anguish, of learning something new is what I refer to as The Learning Curve. I have the (ahem) joy of being in it right now!
The Learning Curve
Whenever we come up on a learning opportunity, we have a choice of two ways to go:
We can decide to go for it, or
We can choose to stay right where we are…"the comfort zone"
If we choose to go for it, we're sure to have some new muscle building with a likely series of trying the new thing and failing. It's like learning to ride a bike as a kid and taking the training wheels off for the first time. We're gonna fall – probably over and over and over again. Attempting and failing is hard, it's embarrassing, it…sucks. It makes us want to quit!
If we decide instead to stay the course of where we are, it's easy. We're comfortable. It feels good. In other words, we can "do it in our sleep." But we also miss out on learning new things, opening up possibility, and even discovering something we might love or be really good at, that we had no idea of before.
Anytime I come up on something new – it could be a job opportunity, realizing I need to develop a skill, or fixing something in my house ­– I think about The Learning Curve and weigh my options: Do I really want to do this? Is it worth it? What's the worst-case scenario?
Sometimes I decide not to take on the challenge, and I pass on the potential promotion, delegate the task, or call that plumber. That can feel really good – and necessary. But sometimes I decide to step up, stretch myself, and I go for it, I take the leap, I DIY it. And there's a thrill in that too. Even though it brings pain with it, which it is certain to do!
What new thing are you learning these days? How's it going?
---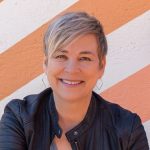 Hi, I'm Jeanie Duncan. I work with individuals and organizations as a transformation partner to help them unlock their Truth, discover authentic value, and create meaningful impact in the world. I believe when we are truly aligned with our purpose, we can live and perform at our highest potential. With over 25 years of experience as an executive, CEO, consultant, coach, and writer, I offer strategic, knowledgeable, and experienced guidance for those who are ready to take the courageous leap toward true transformation.